"One Day, I looked in the mirror. I asked myself, who is she?

My eyes were dark, there was no sparkle.

I had on an old sweatshirt. What had happened to me?

Is this what life is to be?

I answered the Mirror... The Time is NOW! I will find life, I will find myself, my joy, and LIVE"

anonymous testimonial
Many women come to a point in which she recognizes that the tools that have always worked for her, no longer seem to be working. Maybe there has been a loss, a trauma, a betrayal, a puzzlement. Maybe life has been on the fast pace. You've told yourself this is not the right time, or you never have taken the time just for yourself. Maybe you want to understand the missing pieces in your life puzzle.
Sometimes, I use the metaphor of a Novel... it is non-fiction..
It is your story. Today, you are in Chapter__________. There are many things you understand about your life, but perhaps there are pieces that just don't seem to connect. Perhaps, you came from a family with mixed messages, or missing links, or secrets. Maybe the family you grew up in experienced a loss or tragedy. Perhaps, as you reflect on your life, everything seemed so right, so loving.. and now, what has gone not the way you thought it would? Whatever your story is, it is your Novel, unique to you and your precious life. Your life now is impacted by the previous chapters. We can't look ahead in this book, and read the ending... even though sometimes, I have heard, " if I just knew what would be happening 5 years, or 10 years from now?" How do I live in the present, and find peace today?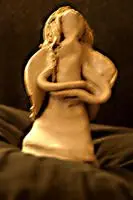 " In every block of marble I see a statue as plain as though it stood before me, shaped and perfect in attitude and action. I have only to hew away the rough walls that imprison the lovely apparition to reveal it to the other eyes as mine see it. I saw the angel in the marble and carved until I set "her" free "
Artist Michelangelo
What do you see as you look at this sculpture?
I invite you to see a woman, taking flight, turning to the light, going forth on her pathway to find peace, joy and freedom.
W
hat I most want you to know and to believe is:
You are Wonderful!
You are Amazing!
You are Beautiful!
It is my hope that you will be empowered in your self-discovery process, you will be strengthened through discernment to find healthy choices, to take action, and to live the fullest life possible. I want you to live your dreams. If you are wandering in the maze of life, find your dreams, and make this NOVEL alive. It is the most interesting book ever to be written. It is about you and your life.
"The future belongs to those who believe in the beauty of their dreams.
A woman is like a tea bag; you never know how strong it is until its in hot water!"
Eleanor Roosevelt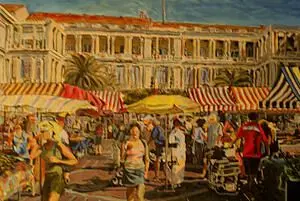 I appreciate the opportunity to talk with you. Please email or call me for further information, or to schedule an appointment for individual or couple therapy, or inquiry regarding Celebrate Women Workshops.
CELEBRATE WOMEN WORKSHOPS
Celebrate Women workshops are held in both indoor and outdoor settings within one hour of St. Louis. Through experiential activities, women support one another and grow. Explore who you are in the company of women on pathway of discovery. Fee is per event subject to expenses. Consent is required to participate.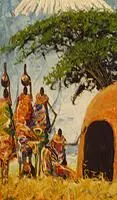 Upcoming Workshops:
September: St. Louis Symphony
October: Hawn State Park Hike Pickle Creek Trail in Splendor of Autumn
November: Onodonga State Park Hike above and below! Explore the wonders of the cave
January: Cooking at Kitchen Conservatory
February: Missouri Botanical Garden
Additional Activities as Planned.
Goals:
To discern your own personal truth and to discover your own inner potential.
To find or recapture your dreams. To Laugh and have fun!
To explore healthy boundaries and successful strategies in your life.
To resolve losses, forgive hurts, and find strength in healing one day at a time.
To discover your own pathway through personal discernment.
To listen and learn from women, sharing compassion, strength, and hope.

Artist: Chris Lane 2003 Cours Saleya Marketplace Nice, France
Tanzania Maasai Women, painting on bark Artist unknown
Sculpture "Freedom" Mary Jane Lane